The Brazilian women using football to escape the favelas
For decades, women's football was banned in Brazil. Now ex-drug traffickers are tackling prejudice in the game by training future soccer stars from the favelas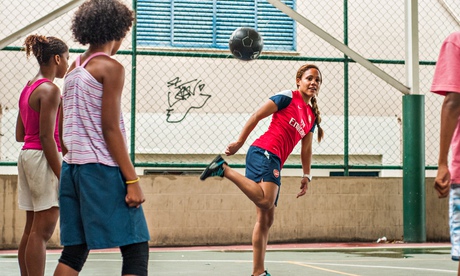 The Astroturf on the football pitch in Rio de Janeiro's Penha favela complex is torn and covered with litter, while graffiti on the bullet-ridden, pockmarked walls vows "death to the police".
"Stray bullets are part of my life here," says Jessica, a 17-year-old football coach. "Sometimes you have to jump into a house to dodge them."
Around 1,000 children have been coached by the ex-drug traffickers recruited by Favela Street in four favelas. Around 80 girls currently play football and Veldhuis, who began developing the programme as an intern with Ibiss in 2008, plans to increase girls' membership by extending it to more areas.
Despite the national passion for football and success of the men's team, the women's game has been slow to establish itself in Brazil; the fourth incarnation of a women's league was launched last September. Between 1941 and 1979, a law – originally imposed by the then-ruling military dictator – prohibited girls and women from playing football as it was considered "incompatible with the female form". Women's teams have lacked sponsorship, support and media attention – even despite the homegrown success of Marta, routinely named as the world's best women's footballer.
Just before Christmas, Arsenal and England footballer Alex Scott was invited, as part of her ambassadorial role with the SCWC, to visit the Brazilian girls' team in Rio. It is a long way from Penha to east London, where Scott grew up, but for girls in the favelas and those from Scott's council estate, similar experiences could still be shared. "I don't know what would have happened to me if I hadn't got into football," says Scott. Being picked up by Arsenal aged eight gave her a lifelong sense of direction and confidence.
Whether in London or in Rio, the Arsenal defender believes the sport can offer ways to cope with living in tough urban environments. "Football helps you because you have to learn how to channel your aggression. If you let it overwhelm you, you risk letting down the whole team. Developing that discipline helps you in the rest of your life."
Favela Street is using football to change life opportunities for Brazilian girls against difficult odds. Often, even the smallest logistical details can present a real challenge. "All the children who take part in the soccer schools are given instructions on where to go if the shooting starts," says Veldhuis. "But sometimes we have to cancel training if it's too dangerous."
"There are always barriers [to playing football]," says Jessica, who is determined to lead the Favela Street girls to victory at the SCWC tournament, "but barriers are there to be overcome."